TeleScript Software Preinstalled on Computers -
USA ONLY
Special Offer - TeleScript PLUS Computer
Dell E6410 Computer (factory refurbished, average retail price, $750+) preinstalled and optimized with:
TeleScript Pro SK License -- $3690 + $45 S/H
TeleScript AV SK License -- $1965 + $45 S/H
TeleScript TECH SK License -- $540 + $45 S/H
TeleScript TECH RC License -- $1190 + $45 S/H (SK ver. $1540)
Dell E6410 Computer only, preinstalled and optimized TeleScript software (license not included) - $695 + $45 S/H
SPECIAL COMBO PACKAGES:
TeleScript Pro AND TeleScript AV plus computer -- on one machine
Software Combo Security Key plus computer -- $4510 + S/H (15% off software)
One of the most common questions that we're asked is, "What computer should I buy?"
Answering this question has been very difficult. The market is flooded with very cheap (as in "bad"), poorly made, shabbily engineered, sub-standard netbook and laptop computers. Many of these have graphics cards that are not capable of the real-time updates required by a teleprompter display. Even some of those which boast "nVidia Graphics", actaully use hybrid nVidia/Intel graphics which are improperly implemented and do not allow the user to select the high performance graphics by preference.
To exacerbate the difficulty of advising our customers on computer models, once we're found a good make/model, it's often no longer available by the time we make the recommendataion.
In the attempt to deal with this, weve partnered with a firm in Austin that wholesales refurbished Dell computers. While they last, wecan sell these computers below their price on the Dell Factory Outlet site (click the link and see for yourself) with preinstalled TeleScript software (Pro, AV, and/or TECH), completely optimized for smoothest scrolling, and top performance. These special prices are available only from Telescript West via our ONLINE STORE.
GO TO TELESCRIPT WEST WEB STORE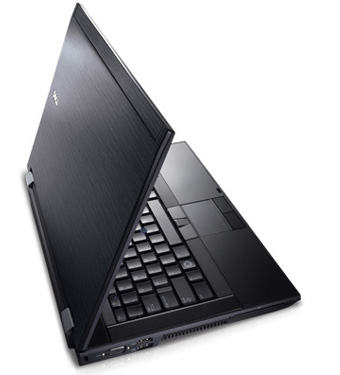 About the Computers
Right now, we can provide a Dell Latitude E6410, one of the most rugged, and dependable machines that Dell has ever made. (Read the PC Magazine Review.) Most are only two to three years old and were corporate "contract" computers which are traded in as the original factory warranty nears expiration. They are completely refurbished by the factory. The average selling price from the Dell Outlet Store is about $750. The configuration varies, but all have nVidia Quadro graphics. This machine has been hand selected by Telescript West for its excellent performance with TeleScript software.. (Please note that most "refurbished" Dell E6410s DO NOT have the nVidia Quadro discrete graphics card, but instead, have Intel integrated graphics which is NOT optimal for smooth scrolling.)
Each machine is warranted for parts and labor for a period of 1 year! Also available for this computer is a "mini-doc" which exposes the serial port and parallel ports.
The Package
We will install TeleScript Pro, TeleScript AV, or TeleScript TECH software, and perform a THIRTY STEP optimization to be certain the software performs at its best. This procedure inclues complete updating of the operating system and system drivers, installation of renown AVG anti-virus software, removal of processor hogging bloat- ware, creation of nVidia display profiles for cloned and extended desktops to your specification, installation and testing of serial and USB controller drivers... and much more. The entire process requires 5-10 hours of a technician's service time -- if you've labored over optimization, or paid aftermarket service technicians -- then you know how much this is worth!
TeleScript TECH-RC software is installed with a permanent license which will not expire for the life of the machine. The license is NOT transferrable to another computer.
A GREAT WAY TO SAVE MONEY ON SOFTWARE!
Questions?
Q: If I replace the machine, can I move the license to another machine?
A: The RC (registration code) license is NOT transferrable. However, within the warranty period, return the machine (in original protective packaging) and we will repair or replace the machine and software, and re-optimize the system. SK (security key) licenses are, of course, transferrable to any computer.
Q: What if the machine must be replaced AFTER the warranty period.
A: Return the machine to Telescript West, Inc. We will reinstall and optimize your TeleScript software on a similar, currently available computer at market price. (An equivalent Latitude E6410 computer currently sells from the Dell Factory Outlet for about $750.)
Q: How quickly can I get one of these?
A: Typical turnaround from time of purchase is 10 days. We ship via USPS Priority Mail which is 2 day service.
Q: How do I update the software?
A: You can update TeleScript software as normal from www.telescriptservice.com.
Q: Can I use my existing 10 button controller with these computers?
A: The E6410 is equipped 3 USB ports. In order to use a serial control, you must add the "mini-dock" (port extender) for $50. The mini-dock also includes mouse, keyboard and parallel ports.
Q: What if I lose the machine or if it is destroyed?
A: We recommend that you think of the computer with installed software as a single piece of gear, just as you would a camera or other field equipment -- insure the system for it's replacement value.
Q: Can I use this computer for other tasks?
A: While there's no reason these machines cannot be used for routine computer tasks, it's not recommended. The optimization process finely tunes the machine for the task of teleprompting -- any additons of software, or changes in the configuration of the system may affect the performance as a teleprompter.
Q: What do you do during setup and optimization?
A: The setup and optimization cycle takes about 10 hours, the bulk of the time spent with updating the OS and driver files. Click this link to view the Setup Checklist in PDF format

Here are the basic steps performed on each computer:
Log and record all computer hardware information
Check System Time Server (important for TeleScript ProNEWS)
Update to current version of Windows (Windows Update)
Update all hardware drivers to latest available
Update system BIOS to current version
Install Microsoft Security Essentials and perform update and initial system scan
Install most recent TeleScript Software
Set initial options
Install and test Security Key Drivers on all USB ports
Install and test controller drivers for HCU100/HCU200 and SCU200 (serial to USB) on all USB Ports
Perform system tweaks including
removal of unneeded startup applications and drivers,
power options,
disable screen saver,
USB timeout settings,
Windows UPDATE settings,
notification settings

Install MicroSoft file compatibility pack (allows reading DOCX and DOC from all TeleScript Software)
Inspect and database initial System Information
Install Libre Office 4.2.4 (alternative to MS-Word, etc.)
Setup Graphics card to display in clone mode with external monitor at 1024x768 / 60Hz (or other resolution if customer specified)
Set service information in registry
Set telescriptservice.com shortcut in IE11 Favorites Bar
Install GoToAssist Customer (Telescript West remote support quick link)
If you have other questions, just email

Thanks... we appreciate your business!

Sincerely,

Jim Stringer
Telescript West, Inc.
Austin, TX