Contact Us
Help Desk & Knowledgebase
For any questions about TeleScript software - technical assistance, sales, suggestions -- please submit a ticket at TeleScript Help Desk. This is the fastest and most effective method of getting answers to questions.
Most common questions are addressed by our Online Knowledgebase.
To request sales information, submit your personal contact data HERE.
Email
General Information: info@telescriptwest.com
Sales: sales@telescriptwest.com
Support via email: support@telescriptwest.com
For technical assistance online, go to TeleScript Help Desk
Telephone & Fax
Phone: 512-302-0766
FAX: 512-302-1752
Mailing Address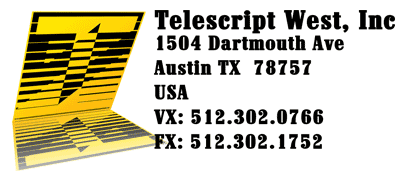 Hours of Operation
Monday - Friday 09:00 a.m. - 06:00 p.m.
Help Desk is monitored 24/7