TeleScript ProNEWStm Time Limited Registration Code
The Time Limited Registration Code (TLRC) for TeleScript ProNEWS will allow the user to explore all functions and features of the software, including unlimited scrolling, and NCS (Newsroom Computer System) connectivity (ENPStm, Dalettm, iNewstm, Octopustm, Inceptiontm and other MOS compatible systems), or use of TeleScript Software Host/Client Mode (requires TWO licensed systems.)
If you have not yet purchased a TLRC, you can read more here. Contact Tech Support if you have questions about the nature of the TLRC.
Download and install TeleScript ProNEWS software.
For installation instructions, Installing TeleScript AV, ProNEWS or TECH on the Knowledgebase.
Launch TeleScript ProNEWS

Double click the TeleScript ProNEWS desktop icon.
Copy Computer ID (CID)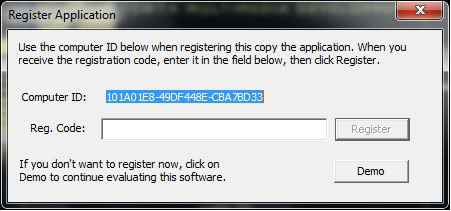 Copy and Paste the Computer ID (CID) and send to Telescript West Technical Support. If you must manually copy the CID, note that it consists of three sets of characters separated by hyphens. There are only the characters, A-F, and the numbers, 0-9.
Paste the TLRC into the dialog.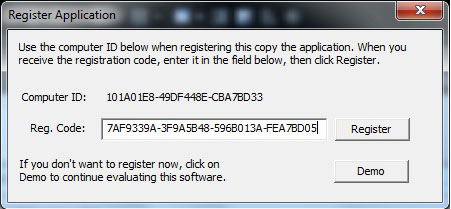 You will receive a TLRC from technical support. Paste this TLRC into the field labeled "Reg.Code" and then click "Register".
This registration code will allows you to explore all the functions of TeleScript ProNEWS for the time specified by Telescript West technical support. The application will display license expiration reminders when there are ten days or fewer remaining on the license.
PLEASE ALLOW 24 HOURS TO RECEIVE YOUR TLRC OR EXTENSION.
Check License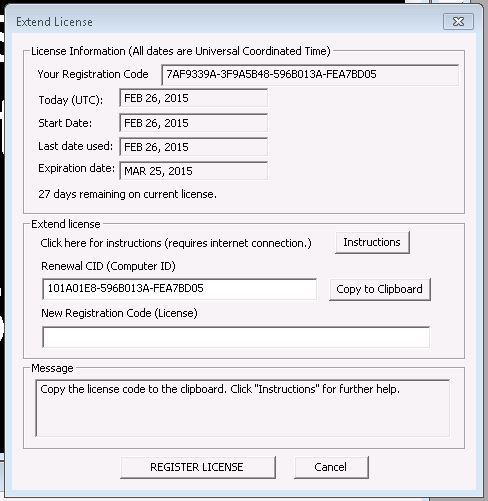 To view TLRC information, go to "Help/License Info...". You can view the license vital information, particularly the Expiration Date. Note that the program will revert to "Demo Mode" when the license expires. This imposes a limit on scrolling time, and does not allow connection to the NCS.
Note that the dialog box provides for extension of the TLRC. Contact Telescript West Tech Support for a Time Limited Registration Code extension.
Clicking "Instructions" in this dialog from within TeleScript ProNEWS will open this current web page.